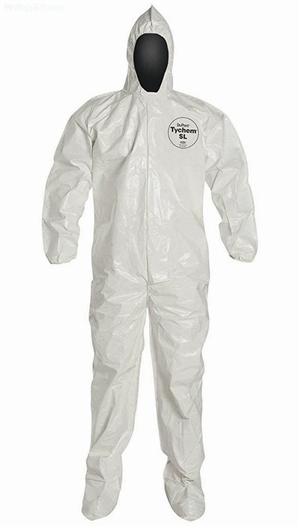 Dupont Tychem® 4000
Offers Protection Against More than 120 Chemicals
Providing a barrier against a range of chemical environments and hazards, DuPont™ Tychem® 4000 garments offer the wearer a versatile and durable fabric.
---
Tychem® 4000 utilizes Saranex™ 23-P film laminated to Tyvek® fabric, resulting in a strong material that resists many chemicals. Tychem® 4000 fabrics are tested by a third party laboratory to assess its chemical permeation resistance. DuPont has data for over 170 chemicals for Tychem® 4000 in SafeSPEC™ so that the user can select an appropriate garment.
Provides at least 30 minutes of protection against over 120 chemical challenges
Widely used in waste management, hazardous response, nuclear environments, and other challenging industries
Fabric is white for high visibility
Available as coveralls, sleeved and bib aprons, and sleeves
線上詢價【
Dupont Tychem® 4000

】