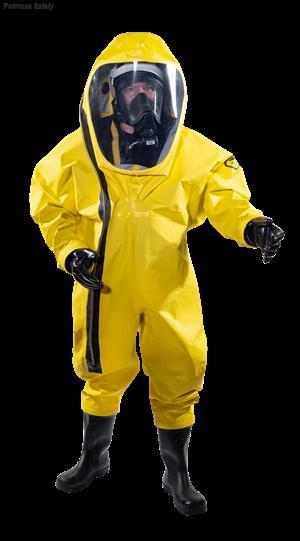 TESIMAX VS 5 SYKAN 1 (reusable)
SYKAN 1 has a PA matrix-base fabric coated with high-performance elastomers. Additionally,a PTFE high-performance plastic film is integrated as a protective barrier (superior wearingcomfort, low noise). Unsurpassed NBC / CBRN protection.
---
One-piece (gas-tight) chemical/firefighter protective suit with permanently fitted VS 5 3-layer PTFE visor (antifog), non-covered gas-tight zip (130 cm; optionally 180 cm), permanently fitted protective gloves/boot (optionally footlets) and pressure relief valves with dual cover/ protection (incl. HPF membrane).
Fabric description
• Extremely light-weight and flexible
• Reusable, washable, good ageing, weathering and ozone resistance
• Excellent mechanical properties (tear-, abrasion- and puncture-resistant) • Very good chemicals resistance to most (CBRN/combat) gases, liquids, particles, acids, solvents and alkalis
• Seam technology: high-quality thermo-taped PTFE (CBRN) seam cover (ULTRA seam)
• Colour: signal yellow (outside) or Nato olive (outside)
Features:
• 3-layer PTFE visor (antifog)
• TESIMAX safety valves with HPF elastomer diaphragm (with additional dual covering of suit fabric/HPF elastomer angle prechamber)
• Integrated (patented) braces
• HPF ULTRA elastomer zip (gas- and liquid-tight)
• Standard protective gloves: WIPAN C, size 10 (for other sizes please enquire) Alternatives: WIPAN B+ (0.3, 0.5, 1.5), WIPAN CK or WIPAN CK+
• Standard WT protective gloves: Steel glove change system Alternative: Quick-lock glove system)
• Safety boots: HPF ULTRA CHEM (according to EN 15090, EN ISO 20345 and EN 13832-3; boot sizes: 43 to 47 (please specify when ordering)
• Alternative: Footlets made of suit fabric
• Approvals: EN 943-1/-2 (type a-ET) in conjunction with EN 14325, hazardous zone 0 (static in - hibitor, EN 1149); EN 14126 (B = protection against biological agents); EN 1073; EN ISO 13688; CBRN Finabel 0.7 gas-tested (gases – complete protective suit with components)
• Weight: approx. 6 kg without extras (with footlets)
• Service life: up to 15 years according to manufacturer's guideline
• Applications: Pharmaceuticals, clinics, military and civil defence, industry, shipping and fire brigades (unlimited)
Ordering data:
Sizes 160 to 175 cm M
Sizes 170 to 185 cm L
Sizes 180 to 190 cm XL (STANDARD)
Sizes 190 to 200 cm XXL
線上詢價【
TESIMAX VS 5 SYKAN 1 (reusable)

】