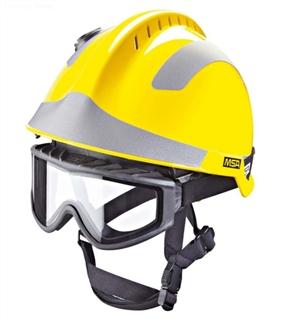 MSA F2 X-TREM helmet,YELLOW
The helmet is available in several versions and thus responds to all extreme applications. The new quick adjust system of this product, called the Ratchet System, reinforces the multifunctionality of the helmet without compromising comfort.
---
F2 X-TREM
With almost 30 years of leadership in technical rescue and wildland fire helmets, MSA offers F2 X-TREM, a multifunctional advanced protection helmet. Its comfort, modularity and wide range of accessories makes it the perfect head protection solution for various activities, such as wildland firefighting, technical rescue, Urban Search and Rescue, Road traffic accident.
Specifications:
F2X-TREM
EN16471/16473
Vented shell
3pt chinstrap
Lamp bracket right and left
MSA Transponder (traceability label)
Silver reflectants (front, lateral and back)
Excluding glasses and lamp
Size: Adjustable leather headband 52-64 cm
Weight: Helmet (without accessories): 680 g +/- 20g
Colors: Yellow, Red, Orange
Inquiry Form【
MSA F2 X-TREM helmet,YELLOW

】