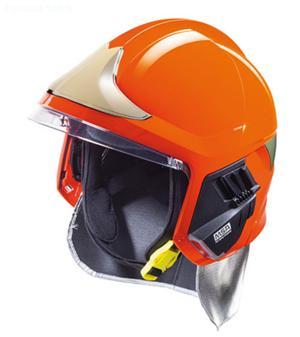 MSA F1 XF Fire Helmet,ORANGE
Gallet F1 XF, developed for Firefighters with Firefighters
MSA worked one on one with over 200 firefighters in more than 25 countries at different stages of the product development process.
---
Developed with firefighters from around the globe, the Gallet F1 XF sets the new standard for structural firefighting helmets. It enters a new dimension of protection, functionalities integration, comfort of use and modularity. The configurable design makes the Gallet F1 XF fire helmet the perfect fit for various intervention such as structural and outdoor fires, technical rescue operations and road traffic accidents. Because of the different possibilities (colors and options) the price of this fire helmet is on request.
Features and benefits:
Ergonomic, well balanced design, providing unmatched comfort in all operating conditions
2 helmet sizes ensuring an optimal fit for both small and large head sizes
Effective, intuitive and robust adjustment mechanisms, ensuring optimal fit for all user profiles
Unique adjustable ocular visor and fitting over prescription glasses whileproviding gap-free enclosure
Comfortable, high-performance face protection with excellent coverage, clear or gold coating
Extended thermal and mechanical protection even in extremely hot conditions
Fully integrated lighting module with unique distribution of light and weight, supporting work and safe navigation in the dark
Optimized care and maintenance procedures, leading to reduced cost of ownership and safer use
State-of-the-art integration of helmet mounted headset for easier communication
Size: Medium-52-62 cm , Large-57-65 cm
Weight: Medium-1450g (±30 g) , Large-1550g (± 30 g)
Colors: Yellow, Red, Blue, Orange, Photoluminescent
Inquiry Form【
MSA F1 XF Fire Helmet,ORANGE

】